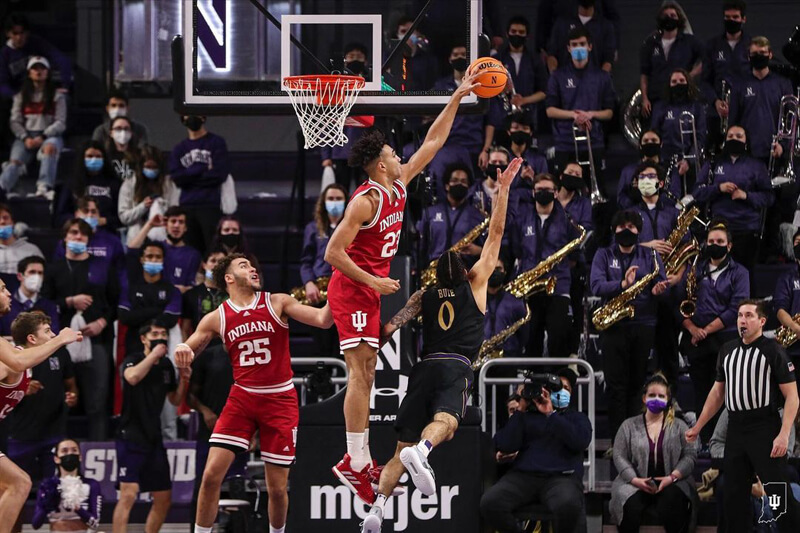 Indiana lost consecutive games for the first time this season, falling 59-51 to Northwestern on Tuesday night at Welsh-Ryan Arena. The loss dropped the Hoosiers to 16-7 overall and 7-6 in Big Ten play with a difficult stretch of games coming.
Here are five takeaways from the loss to the Wildcats:
This loss falls on Indiana's suspended players
While Indiana had its chances to win Tuesday's game in Evanston, the Hoosiers were dealt a major setback before the ball was even tipped.
On his pregame radio interview with Don FischerMike Woodson announced that he had suspended Xavier Johnson, Parker Stewart, Tamar Bates, Michael Durr and Khristian Lander for disciplinary reasons.
Indiana has built a solid enough resume to remain firmly in the NCAA tournament as of now, but its margin of error is small. Tuesday's performance will not help. This loss can largely be put on the players whose behavior landed them on the bench and unable to help their teammates in an important game.
Three of the suspended players – Johnson, Stewart and Durr – are in their fourth or fifth year of college basketball and should be setting the example in IU's locker room. Instead, they put their coach and teammates in a difficult situation on Tuesday night.
Details of the suspensions were not made public on Tuesday and it's unlikely Woodson will ever comment publicly on what exactly led him to bench five players in a pivotal game.
But it was a decision that could have an impact on Indiana's status as an NCAA tournament team moving forward. Woodson, however, is not going to jeopardize the culture he's trying to build and make exceptions for team rules in order to win games. He made that clear in his postgame press conference.
What remains unresolved from Tuesday is the status of the five players moving forward and how long the suspensions may last. With Rob Phinisee still sidelined and no guard depth beyond Anthony Leal and Trey Galloway, Indiana is in a precarious spot moving forward if only seven scholarship players are going to be available.
Galloway starts and makes the case to remain in the lineup
Trey Galloway started for the first time this season on Tuesday after coming off the bench in his previous 12 appearances.
Galloway looked the part of a starter as he scored 13 points, grabbed five rebounds and dished out three assists in 37 minutes. He did commit five turnovers in his first extended run of the season at point guard.
Indiana's starting lineups have been dissected all season because of the team's inconsistent performances to begin halves all season.
Galloway looks like he could be a better solution than either Stewart or Miller Kopp moving forward because he can create opportunities for himself offensively and he's better than both Stewart and Kopp defensively.
Woodson has been reluctant to make a change to the starting lineup all season. Moving forward, his hand might not only be forced by the off-court behavior of several of his rotation players, but also the play of Galloway, who certainly looks like he belongs in the lineup.
A difficult return to Evanston for Miller Kopp
Miller Kopp, who played three seasons at Northwestern before transferring to Indiana, struggled in his return to Welsh-Ryan Arena.
Kopp logged 34 minutes, but was just 1-of-7 from the field and scored only three points in the loss.
Over Indiana's last six games, Kopp is averaging only 3.2 points per game and is shooting 7-of-23 from the field (30.4 percent).
For Indiana's offense to stop sliding down the national rankings in KenPom's adjusted offensive efficiency, it needs more from Kopp.
The 6-foot-7 senior, who is shooting 37.3 percent on 3s overall this season, has not scored in double figures since the Syracuse game back on Nov. 30.
Indiana's offense isn't getting better
Woodson has said from the start of the season that Indiana's offense is lagging behind the defense.
The assumption was that the offense would improve over the course of the season as players adjusted to a new system and new teammates.
That has not happened.
As of Wednesday morning, the Hoosiers rank 109th in KenPom's adjusted offensive efficiency ratings. In Big Ten play, Indiana has the league's 12th best offense ahead of only Penn State and Nebraska.
The problems offensively were only magnified on Tuesday without Johnson. The Hoosiers couldn't make 3-pointers consistently, which put even more pressure on Trayce Jackson-Davis to finish playing around the basket. Jackson-Davis did not play well and fatigue became a factor in the second half.
For the second straight game, Indiana scored only 21 points after halftime and led a four-point lead turn into a loss.
Defense plays well enough to win
As poorly as Indiana played offensively, its defense kept them within reach of Northwestern until very late in the second half.
The Hoosiers held Northwestern to .934 points per possession in the eight-point loss.
Through 13 Big Ten games, Indiana has the Big Ten's best defense at .976 points per possession. For the season, Indiana ranks 15th in KenPom's adjusted defensive efficiency rankings.
The Hoosiers have not had a team finish in the top 20 of Pomeroy's adjusted defensive efficiency rankings since the 2012-13 team. That group, which had the 19th best defense in the country, won the Big Ten regular season title and advanced to the Sweet Sixteen.
(Photo credit: IU Athletics)
Filed to: Miller Kopp, Northwestern Wildcats, Trey Galloway