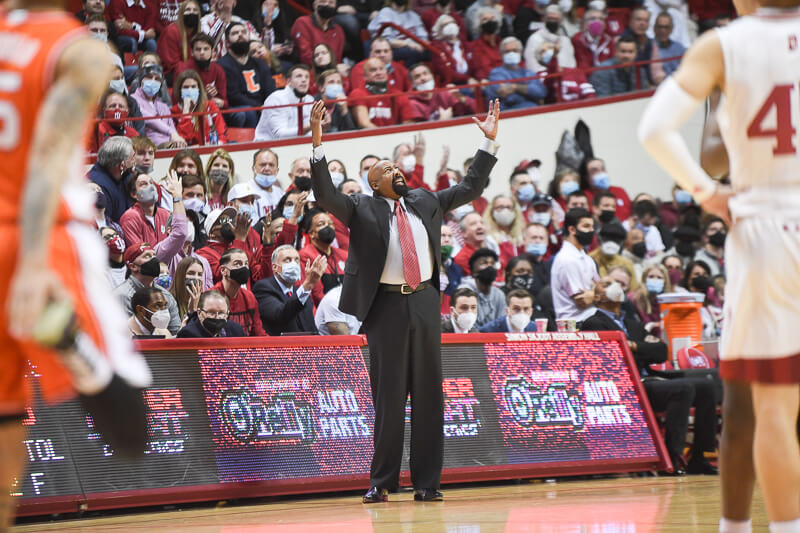 Indiana dropped its second home game this season on Saturday in a 74-57 loss to Illinois.
The loss dropped the Hoosiers to 16-6 overall and 7-5 in Big Ten play. Here are five takeaways from the loss to the Fighting Illini:
Cockburn again gets the better of Jackson-Davis
For the fourth straight time, Indiana fell to Illinois. And for the fourth straight time, Kofi Cockburn got the better of his matchup against Trayce Jackson-Davis.
Cockburn and Jackson-Davis both came into the Big Ten as members of the 2019 recruiting class. Both have gone on to put up stellar numbers at their respective schools and earn numerous awards and accolades for their play.
It was no secret entering Saturday's game that Jackson-Davis had struggled to finish against the size and physicality of Cockburn, who is 7-foot and 285 pounds.
Those struggles for Jackson-Davis continued in IU's 74-57 loss as he managed just six points, six rebounds with no blocked shots in 23 minutes. Jackson-Davis was just 3-of-9 from the field and is now shooting just 34.6 percent over his career against Illinois.
Cockburn, meanwhile, finished with 17 points and eight rebounds in the comfortable win for Illinois. Over four career games against Indiana, he's averaging 15.8 points, 9.5 rebounds and 2.8 blocked shots. He's shooting 50 percent against Indiana.
Most importantly, he won all four matchups against the Hoosiers, including two wins in Bloomington.
Indiana's offense disappears in the second half
For a half, Indiana looked capable of producing enough offense to keep pace with Illinois.
The Hoosiers mustered up 36 points on 1.07 points per possession in the first half against the Fighting Illini and led by two at intermission.
The second half, however, brought a myriad of problems.
Indiana shot a paltry 29.6 percent in the second half against Illinois. The Hoosiers made just 33.3 percent of their 2s after halftime. Despite grabbing six offensive rebounds in the second half, Indiana scored only two second-chance points. After committing just two turnovers in the first half, the Hoosiers committed eight in the second half.
All of this led to Indiana scoring only 21 points in the second half in 31 possessions.
It also led to Mike Woodson questioning postgame what his team was doing offensively as he stated the Hoosiers "never got into anything" in terms of sets or play calls.
What has become clear in Big Ten play is that Indiana is beginning each half with two players on the floor who aren't engaged offensively with consistency.
Miller Kopp did not attempt a shot on Saturday in 16 minutes. And Parker Stewart scored eight points in the first half, but did not score in 11 second half minutes. Without consistent production from two of its starters, the pressure on Jackson-Davis, Xavier Johnson and Race Thompson to score is constant.
3-point shooting continues to fail IU in Big Ten play
Early in the season, it appeared Indiana was an improved 3-point shooting team.
Overall, Indiana is making 34.7 percent of its 3s this season, up from 32.4 percent a season ago.
But when you look at the conference-only numbers, Indiana is actually on track to be less productive from the perimeter than last season's team.
Last season, Indiana shot 32.9 percent on 3s in Big Ten play and scored 26.2 percent of its points on 3s against conference opponents.
Through 12 Big Ten games this season, the Hoosiers are shooting a slightly lower percentage (32.7) and are scoring fewer of their points on 3s (25.7 percent).
On Saturday, Indiana was outscored by 21 points from the perimeter as Illinois made 10-of-23 from distance compared to just 3-of-13 for the Hoosiers.
Trent Frazier controls the game on both ends of the floor
As important as Cockburn's 17 points and eight rebounds were to Illinois in Saturday's win, the play of Trent Frazier set the tone on both ends of the floor.
Frazier, a fifth-year senior, scored a game-high 23 points. He made all five of his 2-point field goal attempts and three of his six 3-point attempts. Frazier made all four of his free throws and also dished out four assists in 36 minutes.
"How spectacular was he? He eats up pressure, "Brad Underwood said postgame of Frazier's performance.
Defensively, his work on Xavier Johnson kept IU's point guard in check for most of the afternoon.
Johnson did have five assists, but he was just 4-of-11 from the field and finished with 12 points.
Indiana's home losses have put added pressure on remaining road games
Woodson has talked all season about the importance of Indiana defending its home court.
The Hoosiers started the season 12-0 at Assembly Hall, but have now dropped two of their last three games in Bloomington.
Those losses have now put Indiana in a position where it will have to win on the road to finish above .500 in conference play.
Five of Indiana's remaining eight conference games are on the road. Three of them – Michigan State, Ohio State and Purdue – are against teams currently in the top five of the league standings.
Its next game – Tuesday at Northwestern – will not be easy, either. The Wildcats have won their last two games and most of their home losses have been close.
Filed to: Illinois Fighting Illini, Trayce Jackson-Davis