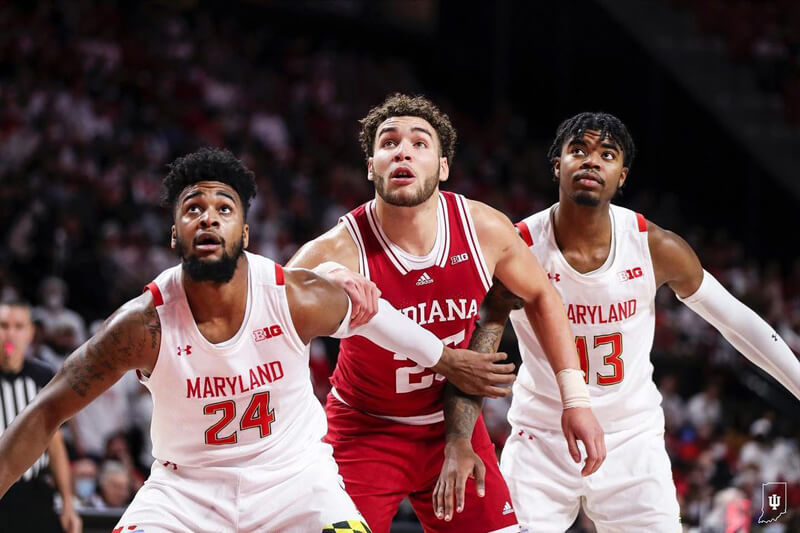 COLLEGE PARK, Md. – As the clock ticked toward halftime, Trayce Jackson-Davis saw his opportunity to give Indiana extra momentum.
With an eye on the time, he surged toward the hoop and rose above the wall of Maryland defenders, throwing a one-handed slam down with authority.
His dunk put the Hoosiers up seven and capped a 12-point first half from Jackson-Davis. When Indiana threw in to resume play in the second half, Jackson-Davis' frontcourt partner took control.
Race Thompson swished a jumper, then another, then another as the Hoosiers pulled ahead to a double-digit lead in the first five minutes of the period. Thompson scored 11 in the second half, and the combined efforts of the two forwards helped Indiana leave College Park with a 68-55 win.
"That's the strength of our ballclub is playing inside-out with both of those guys," Mike Woodson said. "Trayce did not have a double-double, but Race kind of had his way in terms of being able to rebound and score the ball."
It's no surprise that Jackson-Davis and Thompson led the charge. They are the Hoosiers' leading scorers and rebounders. But the two established themselves down low early, and the Terps had no answer.
After an early 8-0 Maryland run, Thompson worked inside on Qudus Wahab and finished with a two-hand jam, sparking a 13-0 push of Indiana's own. When the Terps retook the lead late in the first half, Jackson-Davis rotated onto a mismatch against Fatts Russell and flew over the guard for a dunk, beginning a 10-0 run that gave the Hoosiers the lead for good.
When Jackson-Davis quieted a bit in the second half, Thompson took over and outworked Wahab, Donta Scott and Julian Reese. He dropped seven of the eight points on a decisive run early in the period that put the game out of reach, flashing outside for a triple to cap the push.
"You can not relax when you're on the road," Thompson said. "You've just got to keep stepping on it and have no let up."
Those contributions lifted an Indiana (16-5, 7-4 Big Ten) squad depleted on the perimeter.
Following Rob Phinisee's foot injury suffered Wednesday, the Hoosiers were down to one healthy point guard in Xavier Johnson. He quarterbacked the team with aplomb, dishing out nine assists while scoring eight points and only turning the ball over twice.
He got some help back in the form of Khristian Lander, who was available for limited minutes for the first time since Dec. 22. Lander contributed two late buckets – a driving layup and a 3-pointer – but picked up four fouls. Still, he began to find a rhythm after missing the past nine games.
"My teammates keep putting confidence in me every day, and when it's my time to go, I'm ready," Lander said.
It was more than enough against a Maryland (11-10, 3-7) team that has vastly underperformed and struggled to shoot from the outside. Those issues cropped up again Saturday.
The Terps could not penetrate, thanks in part to Jackson-Davis and Thompson. Both picked up first-half blocks, part of six rejections by the Hoosiers. Indiana ultimately outscored Maryland 36-20 in the paint.
Meanwhile, the Terps were forced to shoot from the perimeter, where they chucked up brick after brick. They staggered to a 22.2 percent shooting performance from 3-point territory.
"We try to give no easy layups," Thompson said. "When you can protect the rim like that and get some blocked shots, it really urges people not to come in there anymore."
That let Jackson-Davis and Thompson go to work. The frontcourt duo combined for 35 points and 21 rebounds, with Thompson recording his fourth double-double of the season. They even got help off the bench from Jordan Geronimo, who chipped in six points, all in the first half.
Their performances helped the Hoosiers secure their first win in College Park since 1934. Indiana has now won four of five but can not get complacent.
As February dawns, Woodson's bunch can see a run of top-25 opponents on the horizon. But thanks to the continued stellar play of Jackson-Davis and Thompson, Indiana just might be in a good position to pick off some of those teams.
"I'm going to keep utilizing them," Woodson said. "That's the strength of our team, and I think the surrounding, supporting cast understands that."
(Photo credit: IU Athletics)
Filed to: Maryland Terrapins, Race Thompson, Trayce Jackson-Davis