NFL: Carl Nassib becomes the first active player to come out as gay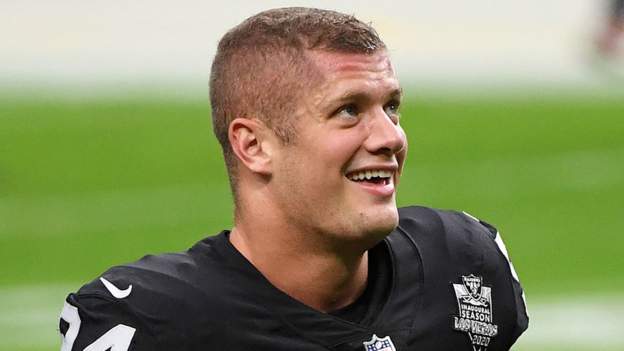 The end of the Las Vegas Raiders defense has made Carl Nassib the first active NFL player to come out as gay.
"I wanted to take a quick moment to say I'm capable. I've wanted to do that for a while but in the end I feel comfortable enough to get out of my chest," he said.
"I really have the best life, family, friends and a job that the best guy can ask for."
Nassib added: "I'm a pretty private person, so I hope you guys know that I'm not really paying attention to that. I think representation and visibility are very important.
"Actually, I hope that one day I won't need videos like this and the whole process of getting them out, but I'll do everything I can until then to cultivate a culture that's acceptable and compassionate."
Nassib also said he was donating £ 100,000 to the Trevor Project, a suicide prevention service for LGBTQ youth in America.
Mark Davis, owner of Raider, told the Las Vegas Review-Journal: "It's a personal decision. It's 2021, and it's Raider. If it's happy, I'm happy. It takes courage.
"I thought we didn't get to the point where that was [a prominent news story]. It doesn't change my opinion as a man or as a raider. "
In a statement, NFL commissioner Roger Goodell added: "The NFL family is proud to share their truth with Carl today with courage. Delegation matters.
"We share his hope that one day as soon as possible the statements will not be new as long as we stand for the full equality of the LGBTQ + community."
No open gay player has played a regular season game in the NFL.
Defensive end Michael Sam came out as gay in 2014 before joining the St. Louis Rams and playing for them in the pre-season, but he didn't make the final roster.
Former LA Galaxy and former U.S. footballer Robbie Rogers came out in February 2013 to become the first gay man to play in one of the five major U.S. sports leagues.
Nassib is set to enter the sixth season of the NFL, as in 2016 the Cleveland Browns opted for a third-round draft pick.
He then had a two-year spell with the Tampa Bay Buccaneers before signing a three-year deal with the Raiders in March 2020.