IT'S been 50 years since the first ever golf ball was launched down the first fairway at Ocean Shores CC and over the five decades the club has managed to combine the attraction of a resort-style facility with the charm and personality of a local golf club.
First-time visitors to Ocean Shores CC in the seaside setting of northern NSW will discover a championship layout ranked inside the top-100 in the country and a modern, well-appointed clubhouse.
Sitting in the clubhouse it is hard not to think of how such a wonderful facility materialized.
Well, history tells us it was the brainchild of an American development company, Wendell-West (later Princess Properties). It was their first development outside the US.
They had big plans and enlisted the services of Pat Boone, the successful American pop singer from the 1950s and 1960s, who once warbled "If Dreams Came True".
He also starred in a musical film titled "All Hands on Deck".
Both song and film could have been a rehearsal for the birth of Ocean Shores Country Club because for the local community it was a dream come true and when the first sods of soil were turned it was all hands on deck.
Boone, a keen golfer, played a key role promoting and marketing the Ocean Shores development courtesy of his celebrity status hosting the Pat Boone Celebrity Golf Classic at Ocean Shores in the US.
Today, members and guests contest the Pat Boone Cup, which was introduced in 1998 as the Ocean Shores Cup.
Originally a 36-hole stroke event off the blue tees, it changed in 2001 to an 18-hole stableford event. Then in 2013 became a 36-hole stableford event off the blue tees – a format continued to this day.
In 2018, the event was named after Pat Boone in recognition of the club's heritage.
But I digress. The Ocean Shores venture got off the ground following the purchase of a number of dairy farms and once acquired Wendell-West said: "Activity centers within Ocean Shores will include an international-class championship golf course with fully-appointed clubhouse and an extensive beach club complex. "
All this came to fruition and each buyer of a block of land automatically became a member of the Ocean Shores Community Center, which entitled them to membership of the golf club.
COURSE DESIGNERS: Bob Green from Golf and Recreation Planners in Sydney was assigned to design the layout which was to be 10 par-4s, four par-5s and four par-3s, but in 1970 Green and his company were replaced by course architects Von Hagge, Barnes and Devlin.
Robert von Hagge was a well-known course designer and Bruce Devlin was a champion Australian professional – a winner of 31 professional tournaments, including eight on the PGA Tour.
They designed the unique Ocean Shores layout that still exists today – six par-5s, six par-4s and six par-3s.
The first nine holes, built on 174 acres, were completed in 1972 and opened for play on May 20 that year while the second nine holes opened for play on September 30, 1972.
The 6364m par-72 championship layout was given a scratch rating of 72.
The layout has some of the largest greens of any golf course in Australia. The total area of ​​all 18 greens is 13,000 square meters with the fifth green alone taking up 1100 square meters. The green, which is guarded by three bunkers, is 39m deep and 34m wide.
IN THE BEGINNING: In April 1972, more than 100 people attended a meeting in the clubhouse to elect a steering committee to guide the formation of the golf club. After much debate, a committee of seven was elected. With the advice of secretary manager John McMahon, the committee undertook final preparations of the constitution for the establishment of the club.
And on July 28, 1972 more than 220 people became members of the newly-formed golf club.
Unfortunately, tired and thirsty golfers were unable to get an alcoholic beverage and a year after opening its doors the club applied for a liquor license.
Still, some members who enjoyed a quiet beverage after golf found a way to indulge.
"There were about 15 of us who could not get a drink after having played golf," explained John Govett.
"So every Wednesday and Saturday Maurie Sorrell invited the group to his unit where they would have a beer."
Then the club received a temporary license for events and a tent was set up where volunteers did the bar work.
THE CLUBHOUSE: The clubhouse, with an enclosed area of ​​11,540 square feet (1072sq / m), was completed and opened in early 1972.
With sweeping ocean views from Cape Byron to the Gold Coast and west across the Byron Hinterland, Ocean Shores CC soon became a destination of choice.
Now the club is a great place to enjoy a round of golf, a game of lawn bowls or a dip in the swimming pool. It's also the perfect venue for corporate functions, weddings, celebrations or just drinks and dinner with family and friends.
The club and Horizons Bistro combine to create a welcoming and family-friendly destination for lunch or dinner.
Horizons Bistro offers food that will inspire and delight your taste buds. There is a wide variety of meal options ranging from classic favorites to ever-changing daily specials. Members, guests and visitors alike are always welcome.
WOMEN'S GOLF: Women's golf started on March 21, 1973 with a meeting of 27 associate members who elected their first committee.
Although few women had any golfing experience, they had plenty of enthusiasm and support from the men's committee.
Jan Rowley, later Larracy, won the first women's competition (nine holes) and later in the year the women welcomed players from six other clubs to their first opening day on September 19, 1973. The entry fee was $ 1.80, which included morning and afternoon tea.
Larracy went on to win eight club championships. Another champion was Sandra Burgess, who won 14 club championships between 1982 and 2001. In recent times, the current club champion Val Marsh has been champion 11 times since 2005.
For the record, the associates became full members in 1986, which entitled them to hold a women's competition on Saturdays.
MEN'S GOLF CHAMPIONS: In 1973, Vic Reynolds became the club's first club champion. A year later, Phil Kerrison won the club championship and went on to win a further five titles – the last in 1981.
Other players to win six titles were Brad Oliss between 1994 and 2012 and Jake McNulty from 2000 to 2018.
Other multiple club champions include Geoff Colbert (1982-83-84), Brenton Minshall (2001-02-03), John Crawford (1985-86), Daniel Morgan (2008-09) and Peter Ferris (2013 and 2015).
PENNANT GOLF: In 1973, Ocean Shores CC entered the men's pennant competition with one team. Played in as many as 12 divisions, Ocean Shores CC continues to enter teams each year. The club's best pennant season was in 2010 when it won five pennants.
Women's pennant was first played in three grades. In recent years, the Northern Rivers pennant has been reduced to two grades due to declining numbers. The women have entered at least one team most years and have eight pennant victories.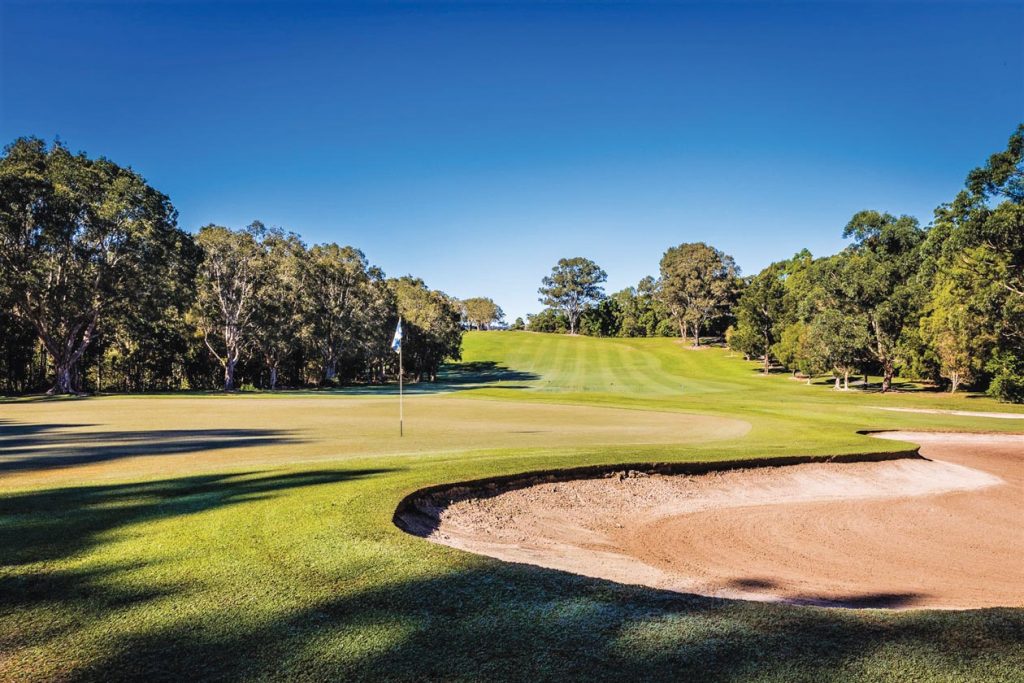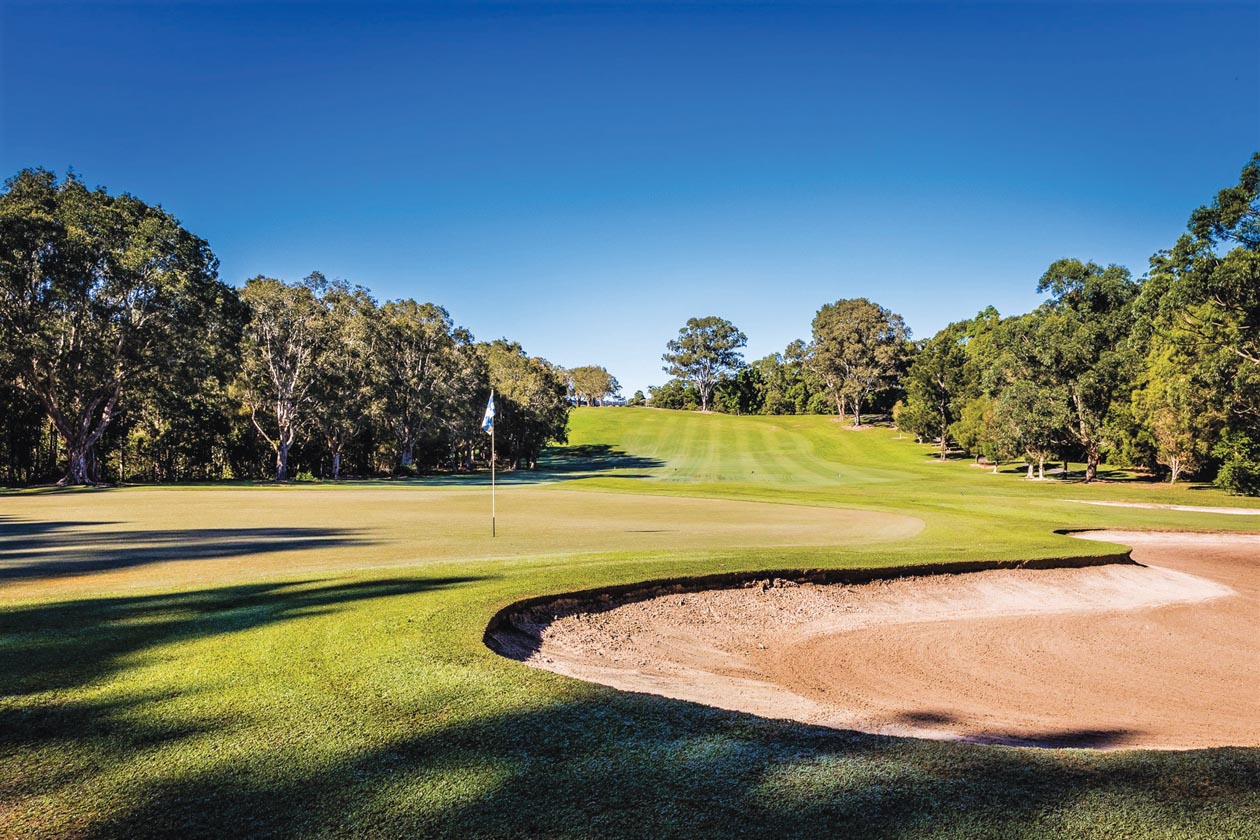 THE GOLF COURSE TODAY: Visitors to Ocean Shores CC will discover an unpredictable roller-coaster ride in a tranquil bushland setting that is unique because the course, as already mentioned, has six par-3s, six par-4s and six par-5s.
But what's nice about the layout is you never play any of any par-3s, 4s or 5s in succession.
The board and management at Ocean Shores CC have a long-term development plan to further improve the conditioning of the layout and have engaged Richard Chamberlain Golf Design (RCGD).
Late last year RCGD completed the Golf Course Master Plan and made a successful presentation to members.
The members were excited to hear that RCGD will not get carried away as the Ocean Shores layout is already a classic. The news is it will remain intact and the focus will be on new putting greens and bunkering.
The club recognized that several greens and bunkers were showing signs of age and in need of repair.
Part of the focus for RCGD was to reduce the footprint of sand from the layout as the course currently has more than a hectare of surface area of ​​its bunkers and it certainly provides a drain on resources from the small but efficient maintenance team led by Shane Heaney .
A spare (19th hole) will be built, which will allow the club to bring this hole into play during construction periods.
A parcel of land has been cleared between the first and second holes and this will provide the opportunity for a short but challenging par-3.
The selected green site also has the advantage of being played from two directions – near the second tees and also near the 18th tees.
This will prove to be highly beneficial on the scorecard, whether a hole is being repaired on either the front or back nine.
Ocean Shores CC has two practice fairways, three practice putting greens and a bunker and short game area.
PROFESSIONALS: Ocean Shores CC has had three club professionals since 1980 – Barry Burgess (1980-95), Greg Smith (1995-2009) and current club pro / sports manager Chris Graham, who has been in the role since 2009.
THE PRO SHOP: The pro shop stocks a good range of both golf and bowls equipment. The club's friendly professional Chris Graham and his staff offer club-fitting, club repairs, lessons (individual and group) as well as expert advice on how to best tackle the challenging layout.
LAWN BOWLS: In April 1977, a bowling club committee was formed and the bowling club opened in June 1977. By the end of the year, the club had 44 members.
Today, the bowling complex offers two wonderfully manicured greens and surrounds with panoramic mountain views.
SWIMMING POOLS: Ocean Shores CC has a large kidney-shaped pool as well as a smaller kids' pool.
50th CELEBRATION: Ocean Shores Country Club general manager Ian Wills told Inside Golf the club would celebrate its 50th anniversary in style with a number of golf events and a celebratory dinner.
Right now, it's all hands on deck as the club's board and management finalize plans for the big occasion.