Introduction
Modern pharmaceutical companies are undergoing a significant transformation with new opportunities from digitization, big data, and analytics. In response to COVID-19, businesses are seeing an increased need for an agile enterprise Business Intelligence (BI) architecture to leverage these opportunities in order to grow. Successful Pharmaceutical companies are looking beyond standard operational and statutory reports to implement more powerful Analytics and AI-driven solutions. These new solutions provide actionable insights and useful KPIs to help make better decisions. This leads to more empowered teams and new engagement that drives additional revenue.
Pharmaceutical companies generate massive information every day through their day to day operations. But the data is not always being put to the right use. Some companies tend to look at reports with a traditional eye that does not drive a 'call to action' to grow the business.
The strength of any analytics software lies in its ability to help users easily create quick insights, especially for an agile business like pharmaceutical manufacturing. Creating reports in days instead of months frees up hundreds of hours in unnecessary spend to gather these hidden insights. This allows business leaders to repurpose cost savings towards other operational improvements and growth.
There is a right and wrong way of reporting – one provides overwhelming numbers, while the other means to understand those numbers and make them actionable.
As the pharmaceutical industry continues to undergo significant adjustments to new opportunities presented by digitization, big data, and analytics, more enterprises continue to see the need for an agile enterprise Business Intelligence (BI) architecture to leverage these opportunities & seamlessly deliver business-critical insights to executives.
The Strength of PowerBI
Power BI, Microsoft's business analytics solution, lets you visualize your data and make it accessible to your Organization. Insights can be easily shared through various platforms of your Organization by embedding them in your app, portals, or website, collaborating on Teams, and integrating them into your ERP or CRM applications. Microsoft's Power BI makes it easy to combine these numbers from different sources, streamline analytics onto a single dashboard, act on newfound insights, and enhance visibility to other teams in your organization.
Leveraging PowerBI interactive reports in a few quick and easy steps
Onboard

Access PowerBI either from powerbi.com or any of the Microsoft ERP / CRM applications.
Connect to your data wherever it lives.
Explore your data with interactive visuals.

Collaborate & Share

Publish reports and dashboards.
Collaborate with your team.
Share insights inside and outside of your Organization.

Access insights from anywhere

Act with seamless access to data insights from your desk or home.
Access on the go with Power BI visual reports built rapidly.
Book a free demo to learn how Power BI can boost your pharmaceutical analytics.
Turning Industry Data into Smart Decisions
Leading Pharmaceutical companies who are transforming into agile organizations need 360-degree insights for business-critical functions such as manufacturing execution, sales productivity, financial management, purchasing raw materials from approved suppliers, quality assurance & quality control.
Today's pharmaceutical organizations collaborate, monitor, and communicate on available live data to achieve operational excellence. Pharmaceutical business intelligence enables these organizations to monitor real-time data from multiple sources and combine them into one pharmaceutical dashboard with the ability to drill-down into the report to identify issues, as necessary.
Figure 1: Pharmaceutical Analysis using Power BI
Usage in the Pharmaceutical Industry
01.

Interactive Reports

Power BI is an analytics software that brings to the table a strong background in delivering end-to-end BI analytics to modern Pharmaceutical companies such as
Efficiency Reports On Lot Production
Trending And Analysis Of Quality Control Data
Recommendations Based Clinical Trial Reporting
And Financials Per Batch Produced For Each Product
Product Go to market assessments (how much spend and types of activity is involved, expected and actual results)
02.

KPI Reporting

Accurate decision making occurs when reporting provides clarity on both good and bad data points on prime KPIs. With business analytics in the pharmaceutical industry, companies can acquire intelligence in real time and can track key performance indicators like:
Machine utilization
Process efficiency
Cost of Sales
Inventory levels
Batch Losses and cycle times
Quality standards of a product line
Customer engagement and customer experience
03.

Real-Time Analytics

One of the essential requirements for agile pharmaceutical companies is to have real-time analytics of overall operations, and to be able to make quick corrections and proactively handle situations before they turn into risks. Especially for manufacturing execution and pharmaceutical inventory management, knowing the work is progressing and inventory is turning around helps production supervisors to manage batch production processes much faster and make on the fly corrections. This real-time reporting on screens throughout a production plant gives needed visibility to both the managers and operators who can be alerted and fully aware of any issues.

Figure 2:Real-Time Data Tracking with Power BI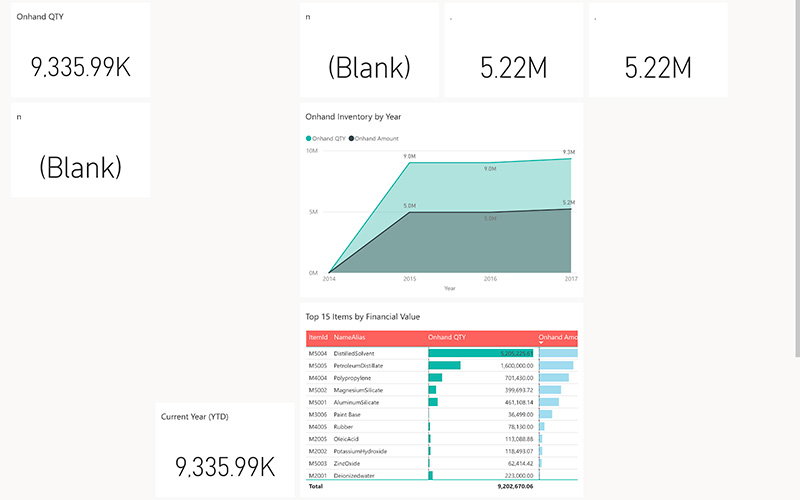 Final Thoughts
A big step towards change today comes from enhancing visibility across all operations including manufacturing execution, sales force productivity, procurement, and financials. Power BI brings to the table a strong background in end-to-end BI services for modern pharmaceutical companies – covering BI strategy, managed services, implementation & support, and even more. From the moment you start considering a BI solution for your growing Pharmaceutical company, the benefits of Microsoft's Power BI become evident very quickly. Microsoft's Power BI will continue to be a must-have product for leading Pharmaceutical companies by delivering a 360-degree insight of operations.
About XcelPros
XcelPros is a Chicago-based company delivering transformation through technology. We offer business and technology solutions with deep industry experience in Chemical, Pharma, Life Sciences (including Medical Devices, Bio-Medical & Biotech), Insurance, Discrete Manufacturing, Process Manufacturing, Distribution and Food & Beverage.
XcelPros is a Microsoft Gold Partner, Direct Cloud Solutions Provider (CSP) and a Systems Integrator (SI) offering software licensing, implementation and consulting services for Microsoft Dynamics 365, CRM, Microsoft Dynamics AX, Business Intelligence & Analytics (Power BI), SharePoint , Office 365 and Azure (Cloud, IoT, Microsoft Flow amongst many others).
Our mission is to provide integrated technology solutions that amplify impact and empower our customer's businesses. We believe technology is the key enabler of exponential growth for us and our customers.
Contact XcelPros today to transform your business.
Call us toll-free – 1,855,411,0585 (or) visit www.xcelpros.com