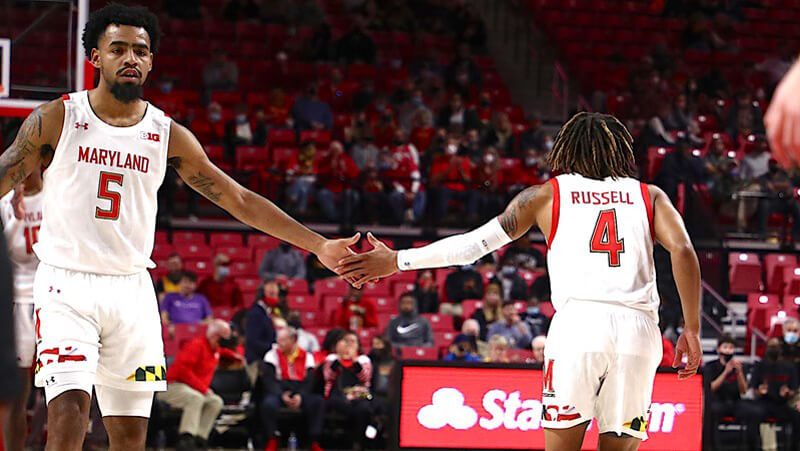 Indiana will seek its second road win of the season when it faces Maryland on Saturday afternoon at the Xfinity Center.
The Terrapins are 11-9 overall and 3-6 in Big Ten play, but have won their last two games. Indiana is 0-4 against Maryland at the Xfinity Center and is one of just three Big Ten programs without a win in College Park since the Terps joined the Big Ten in 2014.
Saturday's game is scheduled for 2:30 pm ET tip on FOX with Brandon Gaudin and Jim Jackson on the call:
Indiana finished 2-1 on its recent homestand, but now the Hoosiers hit the road for three of their next four.
Up first is a Saturday trip to take on Maryland, one of the biggest disappointments in the league through 20 games. The Terps were picked to finish in the top half of the league, but "mutually agreed" to part ways with Mark Turgeon in early December.
Maryland was 5-3 at the time of Turgeon's departure but has gone just 6-6 since interim coach Danny Manning took over on December 3.
MEET THE TERRAPINS
Maryland began the season ranked 18th in the KenPom ratings and looked to have the roster to reach the NCAA tournament once again. The Terps had two significant departures in the offseason as Darryl Morsell transferred to Marquette and Aaron Wiggins entered the NBA draft after a strong performance at the combine.
But Turgeon dipped into the transfer portal for what looked like two key additions in Rhode Island guard Fatts Russell and Georgetown big man Qudus Wahab.
An early-season home loss to George Mason turned up the heat on Turgeon and then Maryland lost to Louisville in the Bahamas and Virginia Tech at home in the Big Ten-ACC Challenge. Turgeon departed after the loss to Tech and now Maryland has fallen all the way to No. 79 in KenPom after a 6-6 mark over its last 12 games.
Maryland plays a tight rotation with four of its starters averaging more than 30 minutes per game and only eight players playing regularly.
The backcourt is led by Russell and Eric Ayala, one of the better two-way guards in the conference. The 6-foot-5 Ayala is coming off of a monster performance at Rutgers where he knocked in 5-of-9 3s, grabbed eight rebounds and scored 22 points in a 68-60 win.
Ayala is making 43.5 percent of his 3s in conference play and has made five 3s in a game on four occasions this season. His 16.3 points per game lead the team. According to Synergy, he ranks in the 91st percentile nationally in dribble handoffs where he scores 1.24 points per possession.
Russell is an athletic guard who can cause problems with his ability to get into the lane and draw fouls or create for his teammates. Russell is 10th in the league in assist rate (27.6 percent) and 12th in free throw rate (36.1 percent). Russell has an average offensive rating of 100 for the season and is shooting just 43.6 percent on 2s and 32.2 percent on 3s.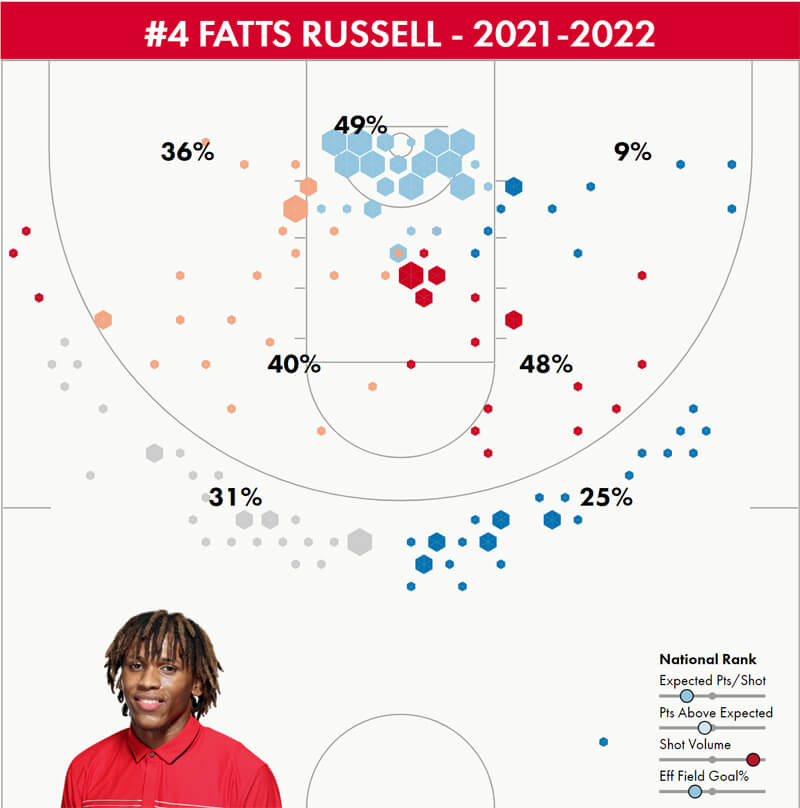 Like Ayala, he's coming off of a big-time performance in the Rutgers win. Russell made five of his eight 3-point attempts and led the Terps with 23 points.
Philadelphia native Hakim Hart starts at the three and he's now listed at 6-foot-8 after being listed at 6-foot-6 for his first two seasons. He had scored in double figures in 10 straight games entering the Michigan game on Jan. 18, but has just 16 points over the team's last three contests. Hart's offensive rating of 124.8 in Big Ten games rates third in the conference, but his usage rate is low at 14.6 percent.
Forward Donta Scott was one of the league's most improved players last season, but has regressed despite playing a similar role in his third year. At 6-foot-8 and 230 pounds, Scott is capable of playing inside or out depending on how the opposition chooses to guard him. He made 44 percent of his 3s last season, but is only making 30.5 percent from distance this season. He went off for 25 points in an 81-65 home win against Illinois on Jan. 21, but scored just three points in 38 minutes in Maryland's win at Rutgers earlier this week.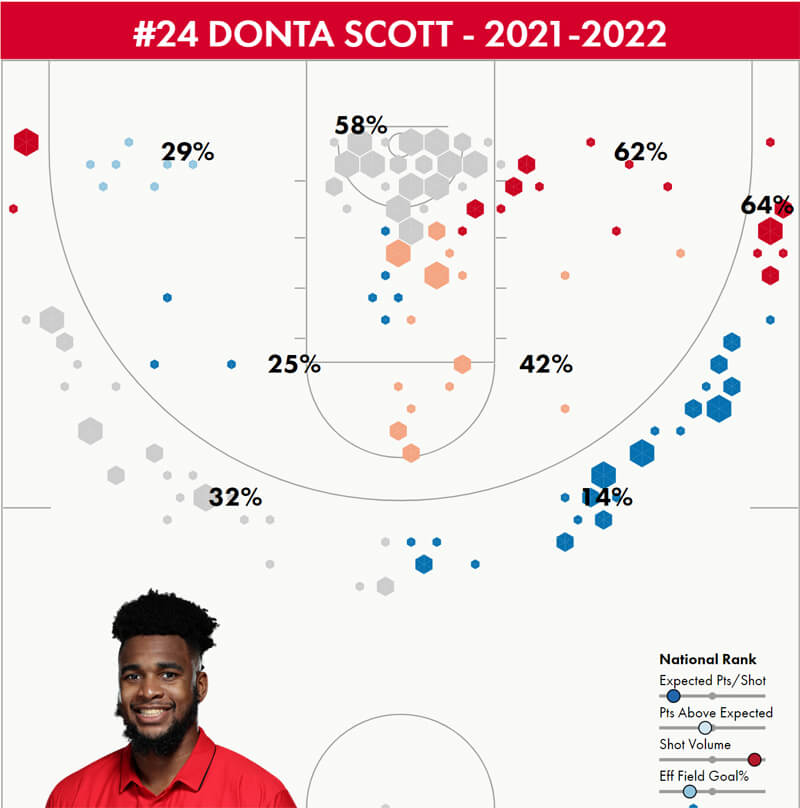 Wahab starts at the five, but Maryland may have more upside when freshman Julian Reese is on the floor in that spot.
The Georgetown transfer is a traditional back-to-the-basket big man who averages 8.4 points and 6.1 rebounds in 20 minutes per game. He's been a disappointment on the glass after ranking second in the Big East last season in offensive rebounding percentage and eighth in defensive rebounding percentage. Wahab's shot blocking is also down from a 6.6 block percentage last season in the Big East to 3.6 percent this season in the Big Ten.
Reese is a much better athlete and offensive rebounder than Wahab, but does not offer much offensively at this point in his career. He's making just 40 percent of his 2s and 30.8 percent of his 3s in Big Ten play. It is hard to ignore his prowess on the offensive glass on a team that is one of the worst rebounding units in the conference. According to KenPom, Reese ranks as the 19th best offensive rebounder in the country.
Xavier Green, a 6-foot-6 transfer from Old Dominion, is a low usage backup on the wing who can knock in the occasional 3-pointer. Utah transfer Ian Martinez had been a part of the rotation as a backup guard, but has not played in the last two games as Manning opted to pair down the rotation further.
TEMPO-FREE PREVIEW
(Stats are now for conference games only. Numbers are through Thursday's games.)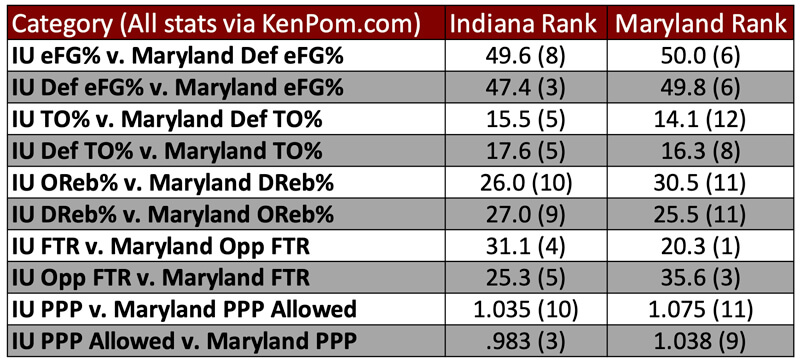 There's not much Maryland does well on either end of the floor besides defending without fouling and then getting to the line. The Terps have outscored their opponents by 103 points from the free throw line this season.
In Big Ten play, 20.3 percent of Maryland's points are coming from the free throw line, which is the second-highest percentage in the league. Big Ten opponents are scoring just 13.2 percent of their points from the line against Maryland, which is the lowest in the league.
The rest of the profile leaves plenty to be desired. As poor of a rebounding team as Indiana has been, Maryland has been worse as it ranks 11th in the conference in both offensive and defensive rebounding percentage.
Maryland's 46.5 percent shooting on 2s ranks 12th in the Big Ten and it is allowing better than 50 percent shooting on 2s in conference play.
WHAT IT COMES DOWN TO
The KenPom projection is Indiana by one with a 55 percent chance of a Hoosier victory. The Sagarin ratings also like Indiana by one.
This is the kind of game that could be the difference between sweating things out on Selection Sunday or comfortably making the tournament. On paper, it's Indiana's most winnable remaining road game, but the Hoosiers simply have not proven they can be trusted away from Bloomington.
The free throw line will loom large in the outcome as will Indiana's ability to slow down Russell and Ayala, particularly if Xavier Johnson is the only point guard available to play. Ayala's physicality also looks like a potential matchup problem for Parker Stewart and Trey Galloway.
Given how poorly the Terps have been able to defend in the paint, Indiana is going to need a big effort from Trayce Jackson-Davis and Race Thompson to emerge from the Xfinity Center with what would be a huge road win.
Filed to: Maryland Terrapins