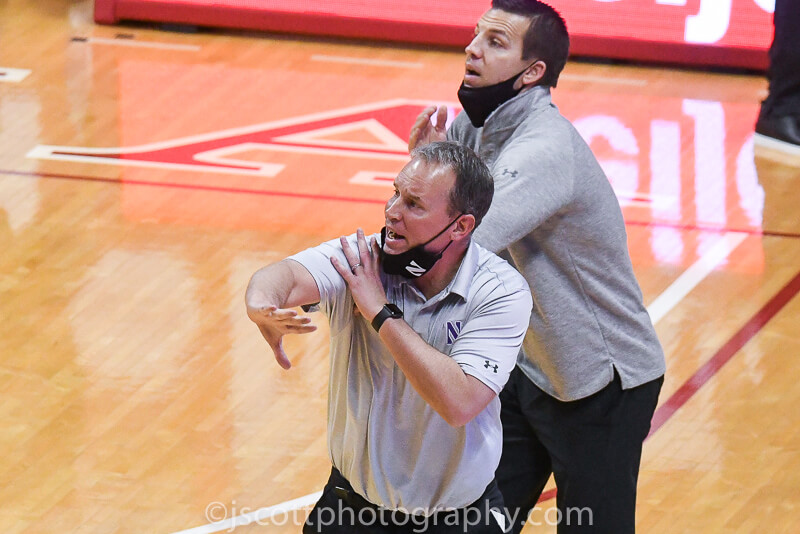 Indiana is back on the road for two games this week and first up is a trip to Evanston to take on Northwestern.
The Wildcats are just 4-8 in Big Ten play, but have won their last two games. Tuesday's game is scheduled for a 9 pm ET tip on BTN:
Indiana's difficult stretch of games continues on Tuesday as the Hoosiers try to solidify their standing for the 2022 NCAA tournament.
Despite leading by two at halftime on Saturday against Illinois, Indiana was beaten soundly 74-57 by the Fighting Illini at Assembly Hall.
The road does not get any easier as three of Indiana's next four games are on the road and the home game in the stretch is Wisconsin next week in Bloomington. Indiana has not lost back-to-back games all season and it's important for the Hoosiers to bounce back with a win on Tuesday in Evanston.
MEET THE WILDCATS
Northwestern is just 1-5 at home in Big Ten play, but its five losses have come by a combined 26 points. The Wildcats picked up their first conference home win last week with a 79-78 overtime win against Rutgers.
Personnel-wise, Northwestern returned most of its team from a season ago with the exception of Miller Kopp, who transferred to Indiana, and Anthony Gaines, who graduated.
Northwestern's best player is 6-foot-10 forward Pete Nance, a former top 100 recruit who is quietly putting together his best season yet in Evanston. Nance can stretch the floor, finish around the basket and also does a good job drawing fouls and finishing at the line.
Nance is connecting at a 43.5 percent clip on 3s this season. In Big Ten play, he's got the 13th best free throw rate (FTA / FGA) in the league and he's shooting 75.8 percent from the line on the season. His 15.6 points and 6.8 rebounds per game both lead Northwestern.
The two other double-figure scorers for Chris Collins are guards Boo Buie and Chase Audige.
The 6-foot-2 Buie is eighth in the Big Ten in assist rate and 14th in the conference in 3-point field goal percentage (39.5). Like Nance, he's a good free throw shooter (80.3 percent). Per Synergy Sports, Buie is excellent in spot-up situations. He's scoring 1.30 points per possession on spot ups, which ranks in the 96th percentile nationally. He's also very good in pick-and-roll situations with .9 points per possession, ranking in the 79th percentile nationally, according to Synergy.
Audige is a high-usage, low-efficiency guard who averages 11.6 points in 27.1 minutes per game. Audige has the 20th highest usage rate in the Big Ten, but is making just 45.3 percent of his 2s and 28.6 percent of his 3s in conference play.
Freshman Julian Roper starts in the backcourt with Buie and Audige. Sophomore Ty Berry comes off the bench. Roper hasn't scored in double figures all season. Berry, meanwhile, started the first 16 games but was moved to a reserve role following an 82-76 home loss to Wisconsin on Jan. 18. Berry has struggled in that role. Over Northwestern's last five games, he's averaging just 5.2 points on 34.6 percent shooting from the field. Senior guard Ryan Greer also comes off the bench and is shooting 42.3 percent on 3s in 26 attempts.
Up front, Robbie Beran starts at the four with Ryan Young backing up Nance and Elyjah Williams backing up Beran.
The 6-foot-9 Beran is a career 35.8 percent 3-point shooter who averages 6.3 points in 23 minutes per game. In Big Ten play, Beran is finishing 54.5 percent of his 2s, which ranks 23rd in the conference.
Young, who is 6-foot-10 and 240 pounds, gives the Wildcats a big body to deploy in the post. He's the team's fourth-leading scorer at 9.6 points per game, but is making only 49.3 percent of his 2s in Big Ten games. From a percentage standpoint, Young is the 7th best offensive rebounder in the Big Ten and 12th best on the defensive glass. Williams, a native of Evanston, is a transfer from Farleigh Dickinson, who has finished over 55 percent of his 2s in 14 minutes per game.
TEMPO-FREE PREVIEW
(Stats are now for conference games only. Numbers are through Sunday's games.)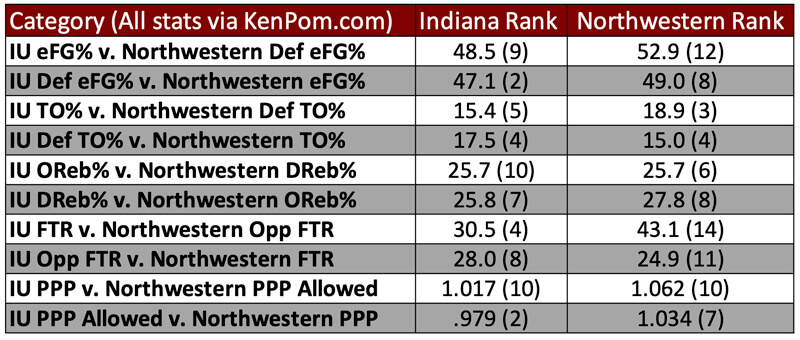 Of note when examining Northwestern's profile is how much it has struggled to get to the foul line. The Wildcats rank just 11th in free throw rate in conference play and its opponent free throw rate is 14th in the conference. Whether Indiana can both get to the line and then convert when it gets there could prove pivotal in the outcome.
Northwestern has also been one of the worst 2-point field goal shooting teams in the Big Ten (46.9 percent) and 34.8 percent of its points in league games are coming on 3s. That's the highest 3-point distribution in the conference, per KenPom.
The Wildcats play the fourth fastest tempo in the Big Ten and take care of the ball well while forcing a lot of turnovers. In conference games, Northwestern ranks fourth in the league in turnover percentage and third in defensive turnover percentage.
WHAT IT COMES DOWN TO
Indiana has a decided advantage in the post with Trayce Jackson-Davis and should also be able to get to the line regularly if it takes care of the ball and does not settle for jump shots.
Northwestern will certainly be motivated in this game with Kopp, who is still close with several players on its roster, coming back to town.
The KenPom projection actually favors Northwestern by one with a 47 percent chance of an IU victory. The Sagarin numbers like Indiana by one.
A loss in this game will put Indiana just one game over .500 in league play and a precarious spot moving forward with its following three games against teams all currently in the top five of the league standings.
Filed to: Northwestern Wildcats